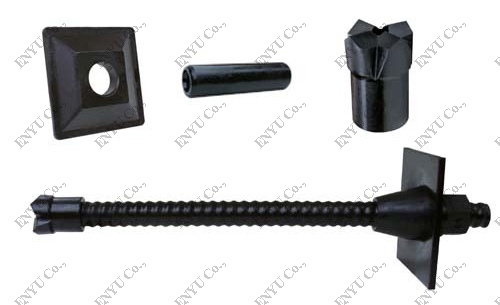 It is very common for underground works to encounter soft surrounding rock, fractured zone and great deformation due to high ground stress. It is difficult for anchor work, especially under the condition that serious hole collapsing occurs and extra-long bolt is needed, while it is impossible to solve the problem with ordinary bolt. This self-drilling bolt embodies drilling, grouting and anchoring as a whole and can improve the condition of surrounding rock in the course of deformation due to high ground stress.
1, Spheriacal nut: To transmit the stress of surrounding rock to the plate.
2, Archoring plate: To bear higher stress of surrounding rock.
3, Grout stopper: To keep grounting at certain pressure to fully fill the clearance of surrounding rock.
4, Anchor body: It has the international standard wave-shape connecting thread and is very easy to be installed with bit, coupling and fasten nut. It can also be cut or connected very freely.
5, Coupling: It can realize the purpose of elongating to the designed depth while drilling.
6, Bit: It has strong ability of penetrating, so the anchor can pass through various rock with it.
Technical Parameters:
Type

EY25

EY27

EY32

EY38

EY51

Dia./wall thickness(mm)

25/5.5

27/6.0

32/6.0

38/7

51/8.0

Tensile strength(Mpa)

600

600

600

600

600

Weight(kg/m)

2.5

3.0

3.6

5.2

8.0

Drill bit Diameter

42

44

51

64

76

Thread direction

left/right

Standard Length(m)

3.0, 3.5, 4.0, 4.5

Length error

±2.5%

Drill depth

More than 12m
Specifications:
Name

Specifications

Anchor bolt

EY25

EY32

EY38

EY51

Carbide Cross Bits (mm)

R25/Dia.42

R32/Dia. 51

R38/Dia. 64

R51/Dia.76

Carbide button bits (mm)

R25/Dia.45

R32/Dia. 48

R38

R51/Dia.76

Coupling (mm)

R25/Dia. 35

R32/Dia. 41

R38/Dia. 49

R51

Grout stopper (mm)

R25/Dia. 60

R32/Dia. 70

R38/Dia. 28

R51

Plate (mm*mm*mm)

150*150*8

150*150*8

200*200*10

200*200*10

Nut (mm)

R25/W30/L30

R32/W46/L40

R38/W56/L40

R51

Steel shank & Drill cover

R25-R25

R25-R32

R38

R51

Grounting Joint

R28-R25

R28-R32

R38/Dia. 28

R51